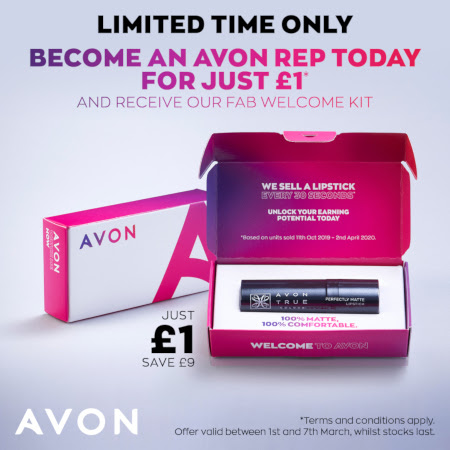 Flexible Hours & Opportunity.
Work whenever and wherever you want, online, offline or both.
Unlimited Earnings
A little extra or full time income, it's up to you. Plus exclusive offers, discounts and prizes.
A Big Team with a big heart
Join our team for all the support you need while you start-up and grow
Why Become an Avon Representative?
In 2019 Avon Cosmetics celebrated 60 years in the UK. Avon is a household name with award winning products and customers who love the brand. Take a look at what Avon offers its representatives.
Work from home
It's never been easier to run your Avon business totally online
Online commision paid every week – no minimum payout
Free online Avon store and online brochures so your customers can shop 24/7 with courier delivery to their door.
Household UK brand name
Affordable product ranges that are really popular at the moment and have seen increased sales over the past year ( including toiletry essentials, loungewear, pyjamas and homeware)
Award winning innovative skincare products
30-day guarantee on all products – customers can buy with confidence
Earn a little extra or grow your business into a full time income
Earn at least 15% commision on every order.
The more you sell, the more commision you can earn up to 30% commision .
No targets to meet – your business your goals
Affordable business to start
Start your Avon business from £9, with our choice of starter kits to suit your needs.
No upfront costs to join – you have 13 days to pay for your starter kit.
Incentives – such as cash bonuses, free products, holidays
If it's not for you, no hard feelings, you're welcome to leave whenever you want
Help to get started & grow
Not sure how to sell Avon, no problem. The Avon Connect training portal has a range of training, from quick guides to in depth training on how to get started earning online or offline.
A big team supportive with a big heart,
When you join Avon you'll be welcomed into our Facebook group where you can find support and motivation from other reps at all stages in their businesses.
Avon's team of advisors are also on hand to help 7 days a week, you're never alone.
---
Signing up with Avon is as easy as 1.2.3.
Apply Below
We'll help you set up your account
Sell & start earning
Ready to see where your Avon adventure will take you? Or simply looking for more info? Fill out your details below and a member of our team will be in touch shortly to discuss your next steps and get your account set up or to answer any questions you may have.
---
How do I sell Avon
As an Avon UK rep you can sell Avon how and where you like,
You can offer a door to door service using Avon's famous brochures or you can work exclusively online. It is estimated that in the UK 1 in 3 people who would like to see an Avon brochure do not have an Avon rep and are not seeing a monthly brochure. You can also sell Avon exclusively online (see below).
Can you make money selling Avon online only?
Yes, you do not need to sell Avon door to door (offline). Many reps in our team are successful selling exclusively online.
Online the options are endless – using social media such as instagram, facebook etc , market places sites like ebay, shpock, amazon, gumtree, advertising online – these are just some of the ways that Avon reps find customers. If you're not sure where to start don't worry as Avon runs regular training covering various ways to earn online.
How much does an Avon Representative Earn in the UK
Every rep is different but generally speaking the more time they put into building up their Avon business the more customers they have and the more orders they will receive. This is the same if you are selling online or offline. It also depends what their goals are – some Avon reps want to make a little extra money a month and for others Avon is their only income.
How much commission does an Avon Representative make?
Avon UK 2021 Commission Levels
Your Avon commission level is based on your sales from the first day of a month until the last.
Here are the commission levels:
15% – for sales between £1 and £99.99
20% – for sales between £100 and £249.99
25% – for sales between £250 and £2,999.99
30% – for sales over £3,000